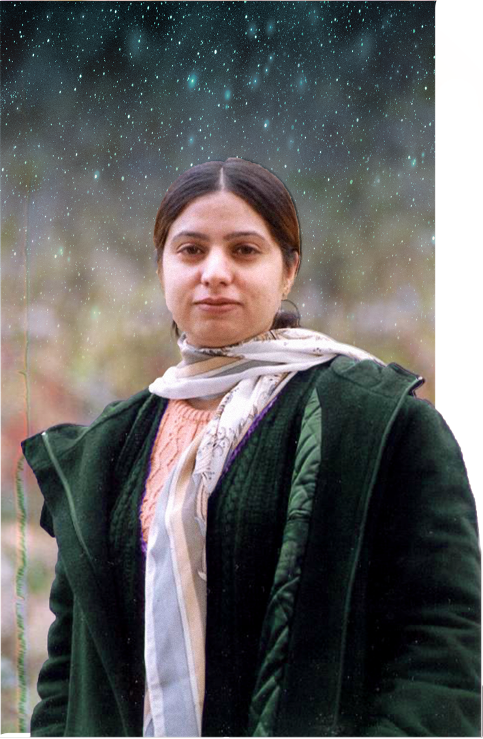 Aasia Jeelani (1977-2005) was a force to be reckoned with; her involvement in the women's movement in Kashmir cannot be overlooked. An activist, journalist, and human rights defender, Aasia held command and respect in a heavily male-dominated field and era in Kashmir. In this tribute, we revisit Aasia's life and honor the legacy of defiance and truth that she left through her work and commitment towards Kashmir.
Born in Srinagar on 9th February 1977, Aasia grew up in politically volatile and complex times in Kashmir. She pursued a Bachelor's degree in Science from the Government College for Women, MA Road, Srinagar. After which, she shifted her field of study and did a Post-Graduation in Journalism from the University of Kashmir.
Aasia began her career as a journalist, starting in Kashmir. In 2001, she moved to Delhi to work with The Times of India. However, she could not relate to the everyday conversations; her identity was in constant opposition to her colleagues. Feeling disenthralled with her work, she made a resolve to move back to her hometown and work there. Unapologetic yet nonchalant in her approach, she stood her ground when it came to speaking her mind.
After returning to Kashmir, she wanted to connect with her community and began exploring spaces in Kashmir, engaging with like-minded people. In one such interaction at the University of Kashmir, she became familiarised with the human rights organization- Jammu Kashmir Coalition of Civil Society (JKCCS). Taking little time to settle within the organization, Aasia undertook various human rights and civil liberties projects. Subsequently, she made it her work home.
Driven with the passion for Kashmiri women's struggle, Aasia strengthened and expanded the Kashmiri Women's Initiative for Peace and Disarmament (KWIPD). KWIPD was a pre-existing wing of JKCCS, Aasia empowered it to become a collective in itself. It was a space for discussion about the multiple struggles faced by the women of Kashmir on account of militarization and societal pressures. Aasia and others at KWIPD held various community engagement programs, conferences, workshops in the early 2000s.
Aasia was determined to internationalize the problem of militarization in Kashmir. She drew inspiration from struggles worldwide and took active steps to mobilize support from around the globe. As a member of both KWIPD and JKCCS, Aasia attended many conferences. In Amsterdam, the Netherlands-based NGO, Inter-Church Peace Council (IKV), organized one such important meeting. Aasia emerged as a notable voice at the meeting proposing an exclusive session to discuss women's issues in conflict zones. On her recommendation, the session was held, and she brought Kashmiri women's concerns forward while advocating for cross-movement solidarity across the globe. She also discussed critical issues like the mental health of the Kashmiri population in an informal session with MSF. After listening to Aasia, members of the organization- Lawyers Without Borders (LWB) attending the conference emphasized the need to visit Kashmir and assess the situation on the ground.
In 2003, KWIPD, under the leadership of Aasia, started a quarterly newsletter magazine called 'Voices Unheard.'[1] Asiya was the founding editor of this magazine, a politically charged collection of essays and fact-finding reports. It contained original works collated by the team; they would travel to different parts of Kashmir to collect stories and testimonies of gendered and sexual violence perpetrated on the women of Kashmir. These were published in the form of newsletters every three months.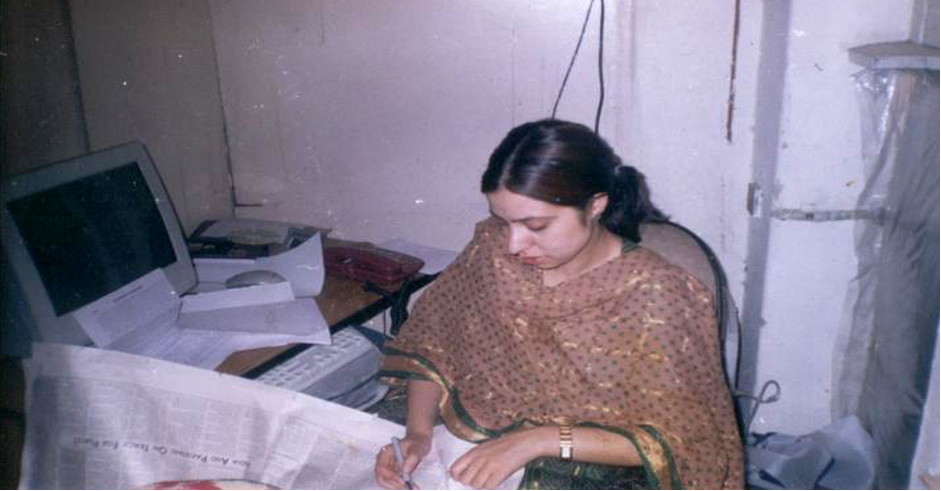 Voices Unheard brought forth four issues in total, all within the lifetime and editorship of Aasia. The first issue was published in March 2003. In the first editorial, Aasia emphasized the role of international opinion and action in bringing an end to the "political imbroglio in Kashmir."
Aasia writes, "This newsletter is a salutation and tribute to those women who fight with courage and deserve all praises and applaud but go unnoticed even in the eyes of their people. Every effort of KWIPD will try to pave the way for peace and disarmament, not only at regional or national but also at international level."
She was optimistic that a women's movement would bring Kashmir on the world's political map and prove instrumental in internationalizing the issue of Kashmir. Aasia took an intersectional approach to critique the various forces subjugating women. Speaking to the lack of a women's movement against militarization, she also addressed the class disparity in Kashmir. She called out the elite section of the society for maintaining a criminal silence over the sufferings of their underprivileged counterparts. Aasia lived her life striving for the cause of seeking justice and accountability. "She died for truth," says Parvez Imroz, chairperson JKCCS, in a documentary[2] dedicated to Aasia Jeelani.
On 20th April 2004, Aasia was visiting district Kupwara as part of an election monitoring team. That day bore witness to multiple acts of violence says Freny Manecksha[3] while going through Aasia's field notebook. The first violence it captured was that of the farce voting exercise. During the team's fieldwork, they came across several accounts of intimidation and threats used by armed forces to exaggerate voter participation.
The other violence it is witness to are the marks from the explosion that took the lives of two members of the team. On their way back home, near Chandgam village, the car carrying Aasia and other colleagues from JKCCS was blown up in an IED blast. The vehicle's driver, Ghulam Nabi Sheikh, and Aasia died on the spot. Khurram Parvez, the program coordinator of JKCCS was severely injured, and two other volunteers were also hurt. Her martyrdom was and remains a collective loss for Kashmir.
Through her work, Aasia set the tradition of feminist revolt in Kashmir and left a trail for us to follow. We at ZW, take inspiration from her resolve, her commitment to truth and justice, and her unwavering spirit.
---
[1] About. (2012, April 27). VOICES UNHEARD. https://voicesunheard1.wordpress.com/about-2/
[2] Remembering Aasia Jeelani. (2019, November 21). [Video]. YouTube. https://www.youtube.com/watch?v=P38mEkW-Hxw
[3]  Manecksha, F. (2018, May 20). Notebook of Asiya Jeelani: Survivor and witness to the violence of 2004 elections. Wande Magazine. https://www.wandemag.com/asiya-jeelani-notebook-survivor-witness-violence-2004-elections/