As a part of our mission to disseminate knowledge and information, ZW's reading group Zanaan Paraan offers a critical space for young people to engage in and undertake academic and research work in the form of a reading group. Zanaan Paraan is a flexible informal space for holding discussions on the existing work, sharing new work and ideas.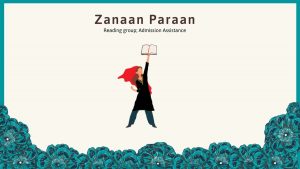 As an extension of this project, we welcome discussions about the field of Social Sciences and Humanities, mainly. These preliminary discussions act as catalysts into the building of critical narratives and discourses. Although we understand that information acquired and shared under institutional frameworks is not the only form of knowledge, we are also aware of the material realities of young people struggling to both, make sense of the world and their ends meet.
We understand that the lack of guidance and support can be devastating and can push people into a state of precarity. A lot of young people struggle with the prospect of their studies- questions about how, when and what to do are difficult to answer on one's own. Our emphasis on collective learning stems from a position of solidarity and empathy for young Kashmiris who continue to work in unfavorable and hostile conditions. Therefore, we want to help each other in this process.
Please note that we are a group of researchers volunteering to help young students in their prospective studies and research. Whilst we will make every attempt to provide one-on-one feedback and support, we do not guarantee acceptance in any university. Nevertheless, we encourage you to get in touch.
Please get in touch with us via info@zanaanwanaan.com.
If you are looking for help regarding your prospective studies, please fill this form: