"Youngest son of Haleema was born in a curfew. Sweat drips from her neck. Baby loves the perfume. I mean look for sure, her whole world is a conflict where machine guns roar and she can't stop it.So, she holds him tight. Never far from her sight. Prays five times a day. Let her children be safe. May they see the light of the day… Let her children be safe."
-MC Kash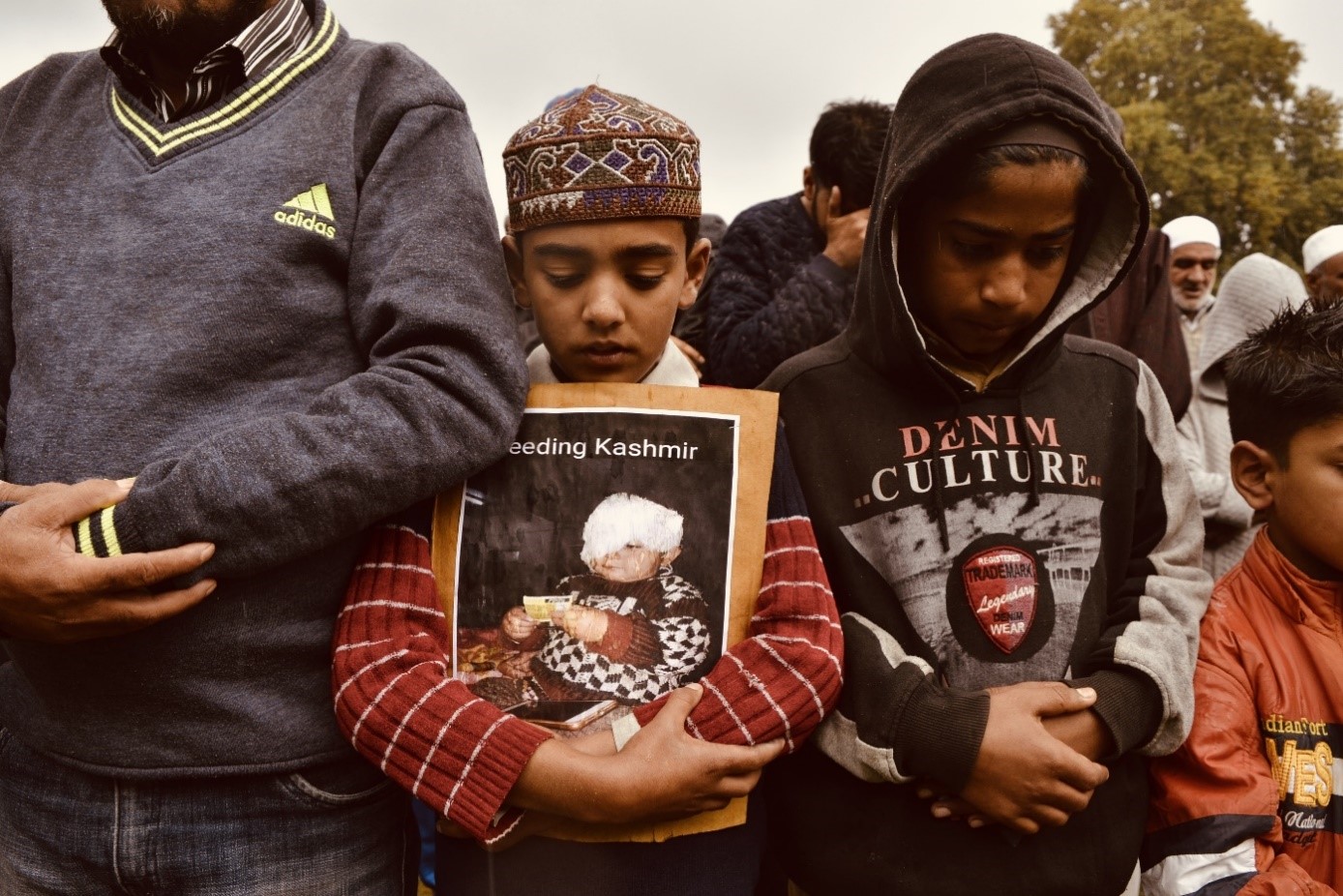 In Kashmir, generations of children have grown up amidst politically charged surroundings and anxieties of survival. It is often said in jest, colloquially, that a Kashmiri child holds more nuance in the tip of their little finger than an adult in the Indian mainland. The minds of children are impacted by their environment and the people that surround them. Philosophers have even said that children are born into the world as blank slates. As they grow older these impressionable minds both acquire from and adapt to their surroundings.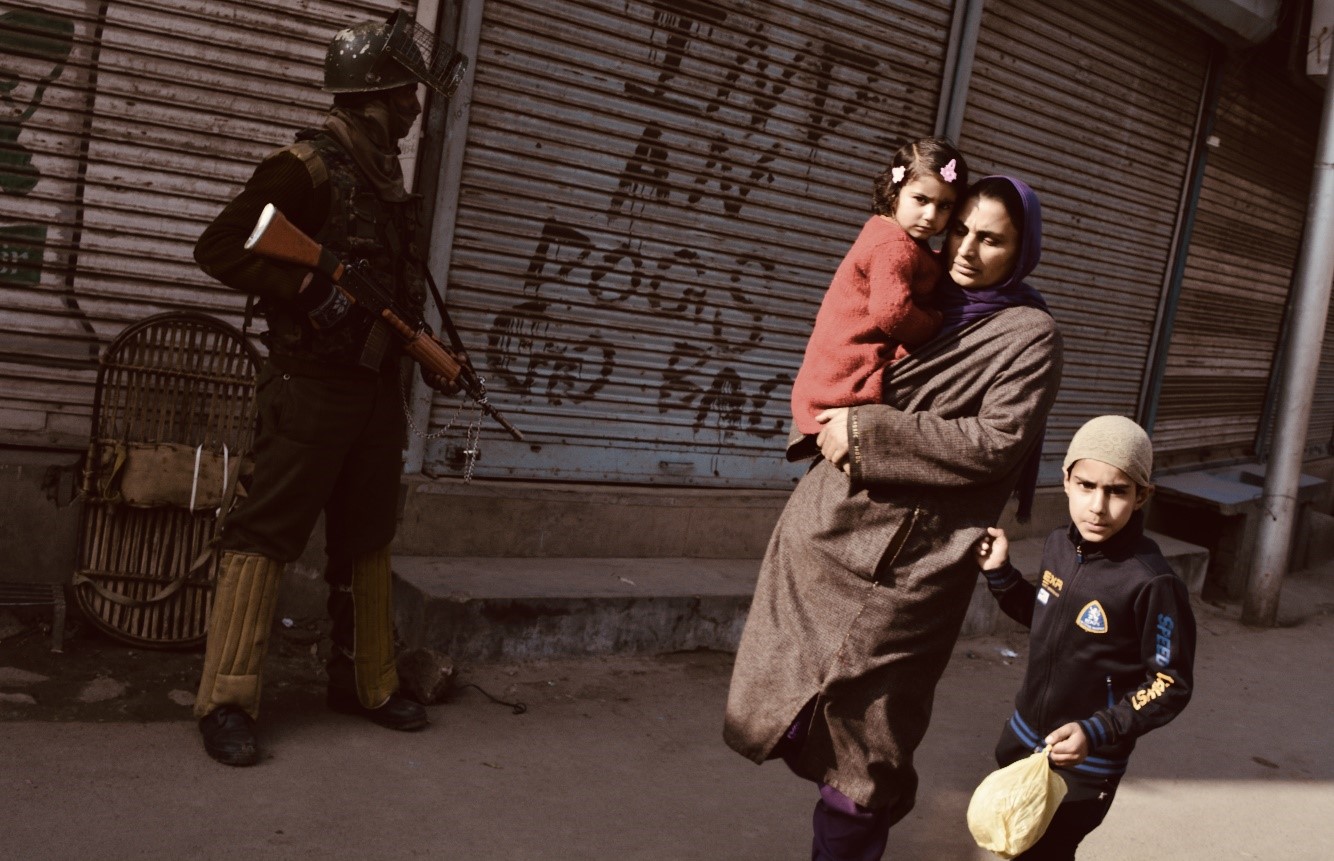 This photo-essay examines the various ways in which children of the valley navigate their (extra)ordinary childhoods. Ranging from the schools begin closed for months altogether, to the heavy military presence in their vicinities, losses that Kashmiri children bear have been integrated into their social fibre, the language of violence is internalised, and it seeps into what they see and say every day- halaat kharab (tense situation), firing, encounters etc.

A rather startling example of this imposition of violence was when a 3-year-old toddler who became the lone witness to the brutal killing of his grandfather by armed personnel as per his family members. In a video that surfaced on social media, the child was heard describing the incident, "unko police wale ne goli mari, wo mar gaya…police wale ne thak thak kia…thak thak thak thak thak." (He was shot by the policeman, he died, the policeman did- imitates gunshots).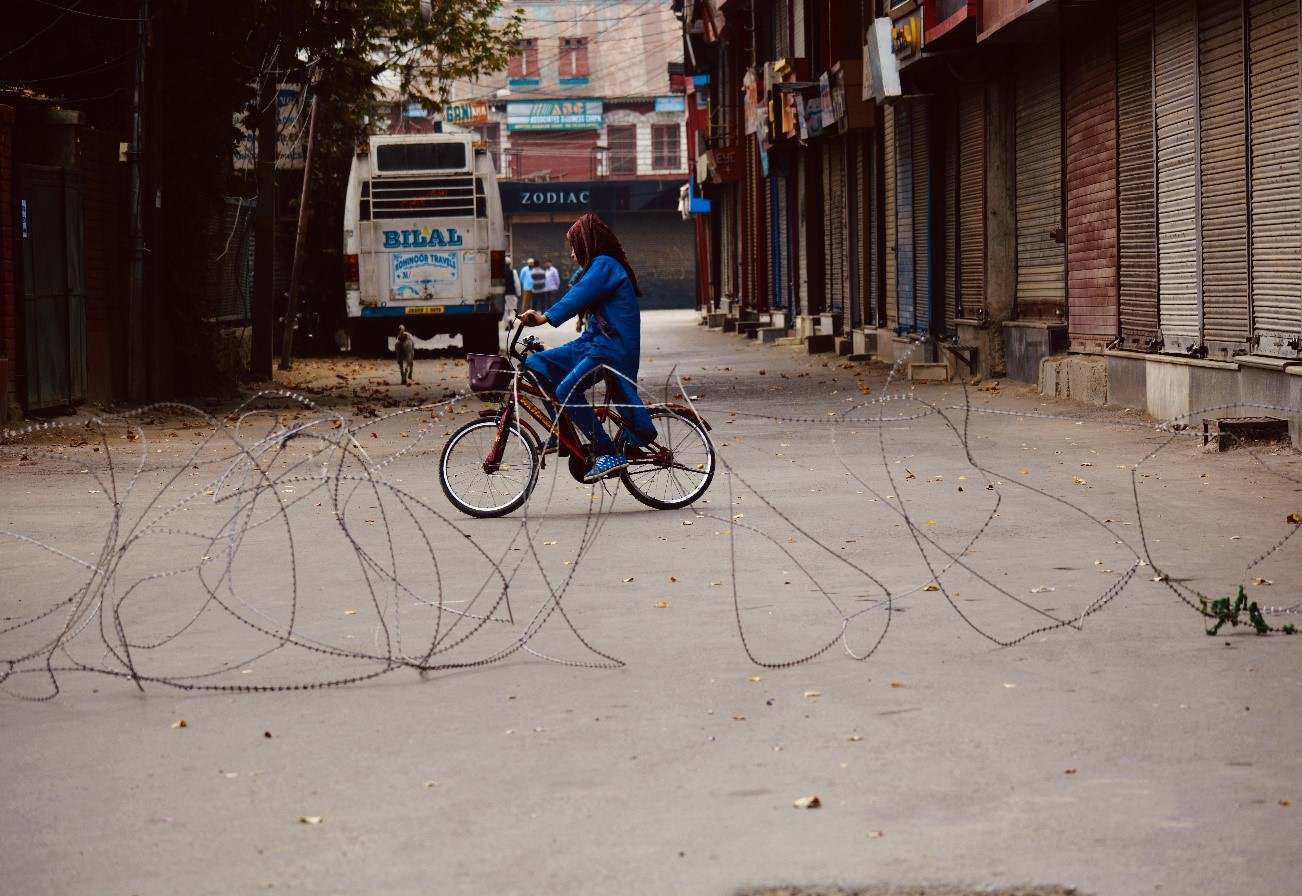 The subjection to loss and violence amid heightened militarization has been made an integral part of the life in Kashmir. So, when the loss is ongoing and omnipresent in the environment, what kind of social beings does it produce? Do children in Kashmir stop playing because concertina wires cover the playground? Have children stopped learning due to continuous shut down of schools over the years?
Childhood doesn't cease to exist in conflict but is forced to adapt a varied demeanor. The photos above depict this through the most visible markers in children's lives amidst militarisation in Kashmir.
"I have a vivid memory of what I have begun to recall as 'boots on a mattress'. When I was very young, about 5-6 years old I woke up to an army man in my parent's bedroom where I used to sleep on the floor, on a mattress. He was going through my father's cupboard which was directly above my bedding. I don't know if the emotions attached to it are something that I developed over time or whether they emerged that very day but I felt violated and paranoid. I have felt paranoid ever since. I think paranoia is an inherent gift that Kashmir gives to its children." –Excerpt from Shahnaz's Diary
Quite often these experiences lead to feelings which get embodied as behavioural patterns. The excerpt from Shahnaz's diary highlights the fact that such instances not only form associations of discomfort for children but also shape lifelong perceptions as adults.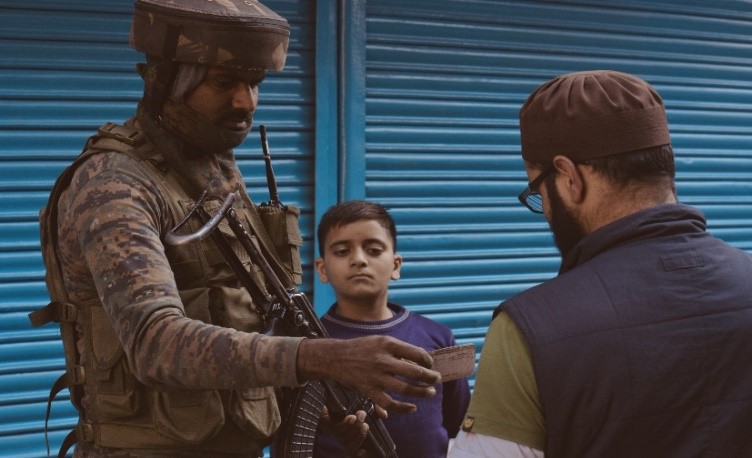 Kashmiri children witness transgressions under the unnatural circumstances of militarization. In this photograph, a young boy is seen standing beside the accompanying adult who is getting inspected. These instances of scrutiny aren't rare and have become a source of humiliation and anxiety for both adults as well as children.
In addition to this, there is an ominous gaze which heightens the vulnerabilities of Kashmiri people.  However, children aren't mere witnesses to such transgressions in Kashmir. Their bodies are sites upon which various degrees of violations occur as well. 18 month old Hiba Nisar became Kashmir's youngest pellet victim in 2018. 17 year-old Tufail Mattoo's killing became the catalyst to the 2010 uprising.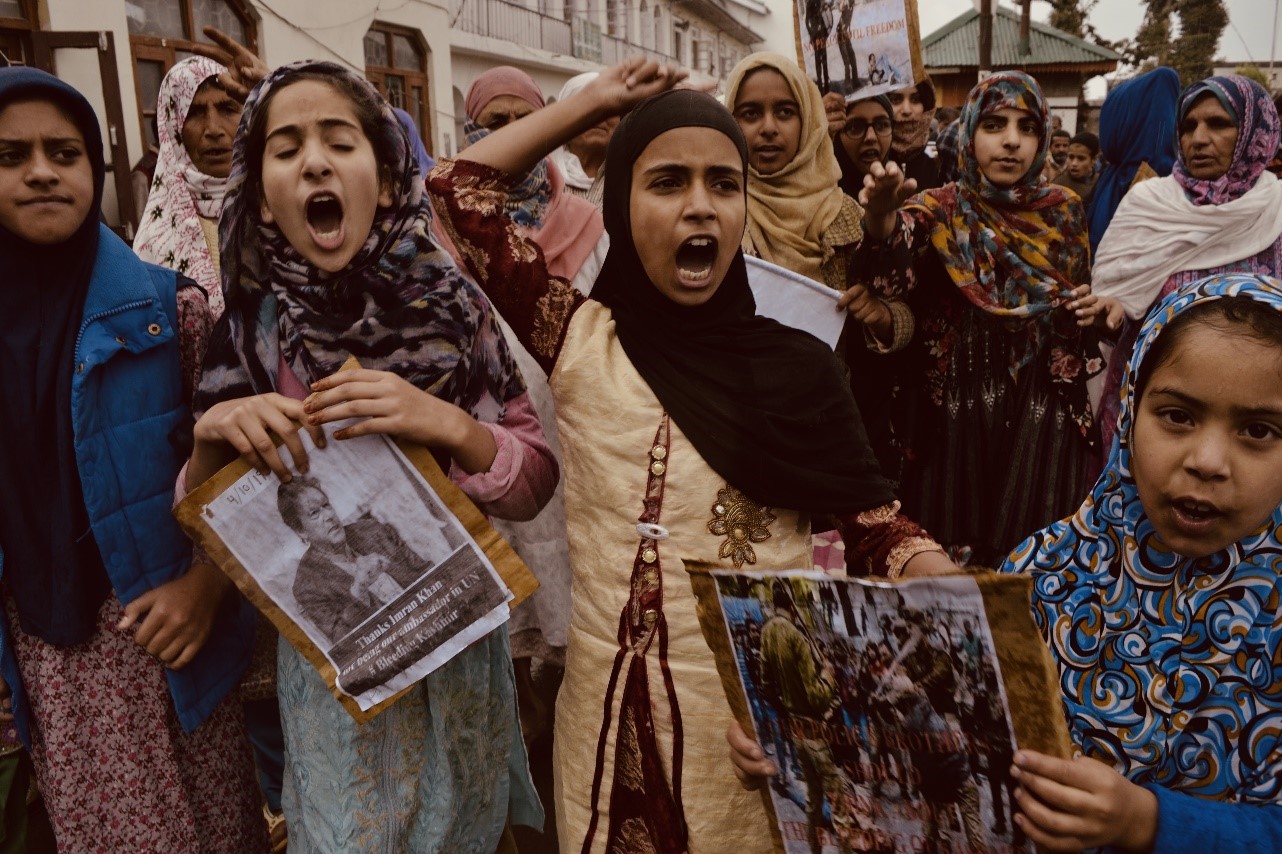 "Ten-year-old Azaan (name changed)…was picked up when he was playing cricket at a playground near his home. Azaan was first beaten and then bundled inside a police vehicle – along with a few other boys. Inside the police vehicle, as per Azaan, the policeman pointed a gun at his chest and told him that he will shoot him. Azaan was beaten and verbally abused by the policemen inside the station. He was only let off after elders from his area, including his family – approached the police station the next day and pleaded for the innocence of Azaan, who is just 10-year-old." –Annual Human Rights Review 2019 JKCCS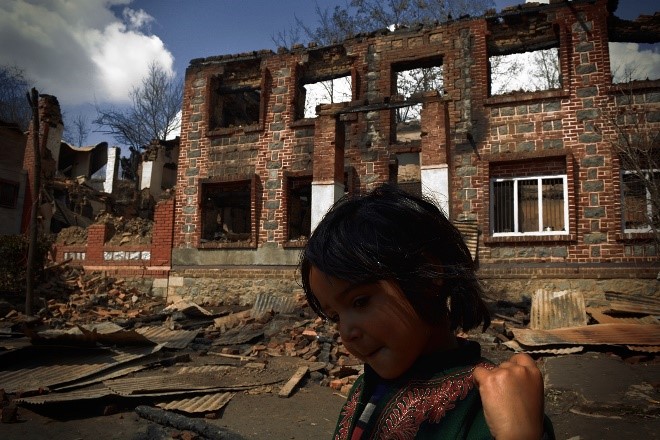 Children are resilient beings- they scratch their knees, cry a little and then get distracted in the next moment. But when this resilience is put to unending tests, does it break their spirit?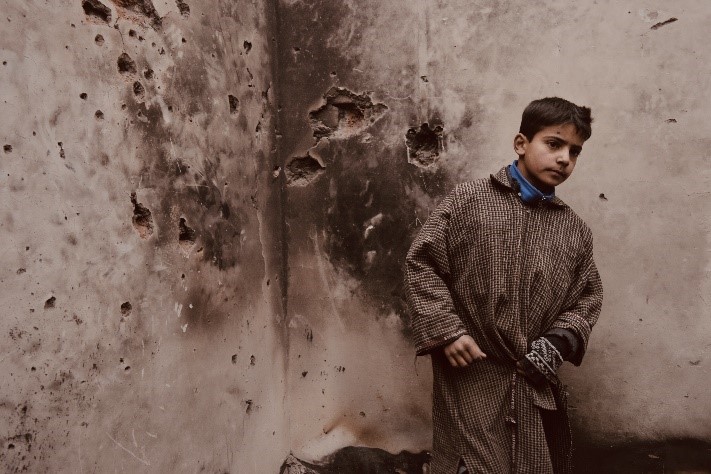 In Kashmir countless children are made a party to violent clashes, they return to encounter sites- to broken buildings, ashes, dust and their belongings gone. Witnessing their demolished homes is a memory encapsulated by these pictures. This event is yet again accompanied by the helplessness of the adults who are also recovering from this ongoing trauma.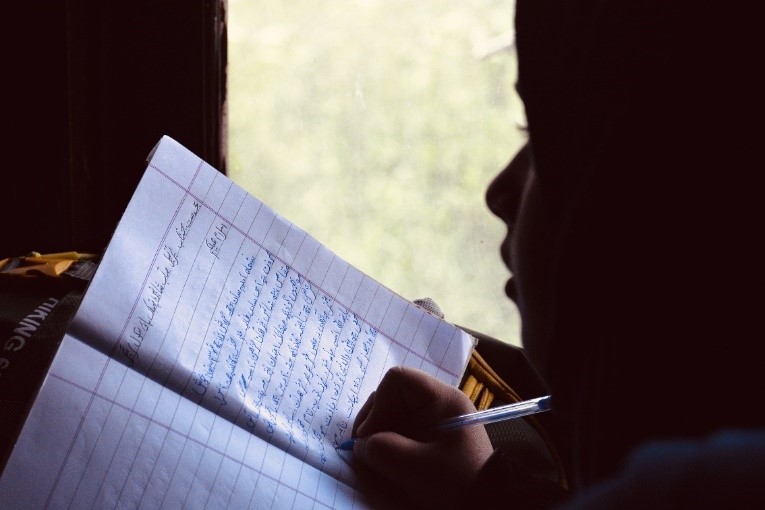 Perhaps the most obvious repercussion of the conflict in recent times is the setback on educational institutions in the valley.  Learning among children is majorly hindered due to the continuous shutting down of schools. In the picture here a young girl can be seen writing a letter (darkhwast) in Kashmiri.  The growth and development of young children is not only affected in terms of their education but also their social life-their play is affected, and they remain isolated, separated from friends for long periods.
"It is funny how initially I used to pray for one more hartal which would mean a day off but soon we started feeling like prisoners in our own land. I missed my friends, I was at home for three months and how much time can a teenager with angst spend with their family or watch T.V? Trust me not a lot. I started spending time more and more on my own and grew quieter…." –Excerpt from Shahnaz's diary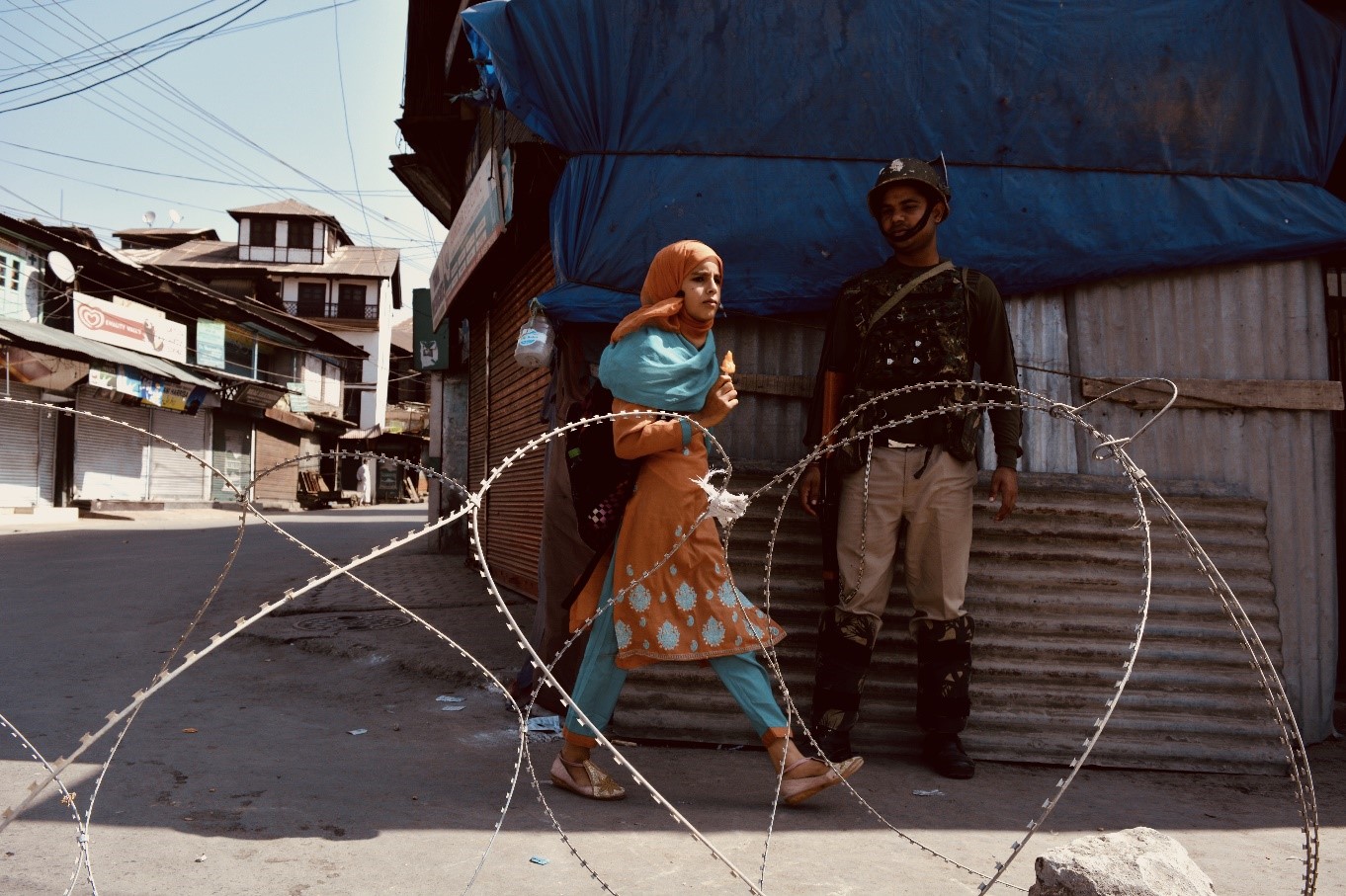 Growing up, these children are forced to be at par with a world that does not halt due to such militaristic and political impediments. They have to circumvent situations which obstruct a healthy 'normal' lifestyle. They continue to function in high stress, under-resourced conditions.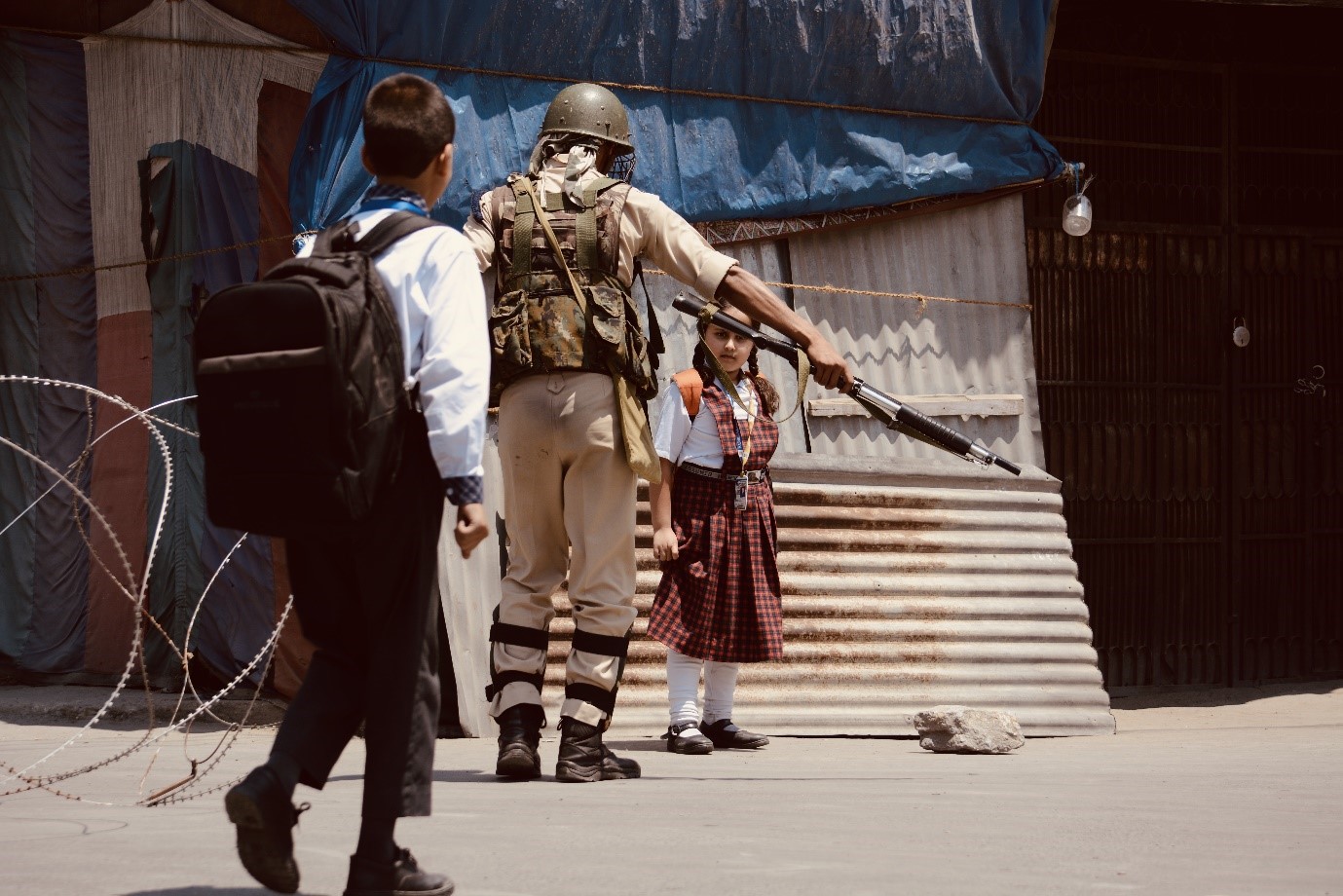 This has severe consequences on the mental health of the children in Kashmir.  However, any conversation about engaging with worsening mental health cannot happen in absence of the socio-political and material conditions. Militarization is an everyday reality of children's lives in Kashmir and any discussion about child-rights is incomplete without taking this into account. Although the pictures in this essay follow the singular lens of militarism, the aim here is to make a case for demilitarization of the region for children's psychosocial wellbeing.
————-
Masrat Zahra is an award-winning photojournalist from Kashmir. Her work has appeared in several international media organisations including Washington Post, Aljazeera, New York Times, etc. Through her pictures she brings out glimpses of everyday life in Kashmir.
Zara Bakshi is a feminist researcher and activist based in Kashmir. A Master in Psychology, her research explores the identity intersections of Kashmiri women.